Multiple Champion Jack

We sold Pepper Jack to our dear friend Kathie Renfro of Ka-Rob ranch as a yearling. He produced several good quality foals for her including some spots. She decided to drastically downsize her herd and I was very fortunate to be able to purchase Pepper from her and bring him home in August 09. I had not really evaluated him in the time she owned him. I brought Pepper home and clipped him and discovered that he has matured into a very nice jack!! He strongly shows Silverado's influence in the quality of his head, substance, and overall correct conformation. He also has the sweet disposition Desperado was known for.
We showed him in three shows this year and he was Reserve Champion Jack in two of them as well as placing in his performance classes and winning his color class! He had not been shown since he was a yearling when he won his last color class. He was lovely to show and handle and was a favorite with the spectators because he snuggled anyone who was near.
We have wanted to add spotted donkeys to this herd for many years but I just couldn't find the quality I was looking for and the few times I did I didn't have the funds to make it happen. I think it's interesting that while I was out searching Pepper was right under my nose all the time! I am very grateful to Kathy for agreeing to sell him to me and excited about his contributions to the Cooke/Benson brood jennets.
These photos of Pepper were taken when he was ten years old. I pulled him out of the pasture on a whim and showed him. He won his jack class and was awarded Reserve Champion Jack. Judges love him – and so do we!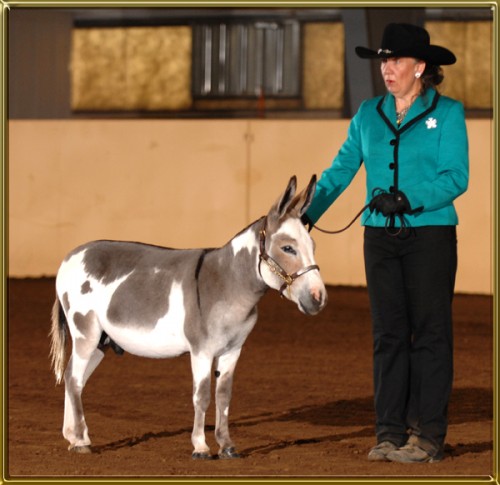 ---
SHOW RECORD
2012 POWELL BUTTE DONKEY SHOW
1st Five and Over Jacks RESERVE CHAMPION JACK
2010 DONKEY PALOOZA
1st Five and Over Jacks
RESERVE CHAMPION JACKS
2010 NORTHERN CALIFORNIA MINIATURE DONKEY SHOW
1st Four To Nine Year Old Jacks
1st Spotted Donkey
2009 MR LONGEARS ROSEBURG SHOW
1st Three and Over Jacks
RESERVE CHAMPION JACK
2009 SALEM STATE FAIR
1st Three and Over Jacks
1st Spotted Donkey
2009 NORTHERN CALIFORNIA MINIATURE DONKEY SHOW
RESERVE CHAMPION JACK
---
Here are a few of Pepper Jack's foals