9/28/16 Update – Camari has a home!!!! She is no longer for sale.
8/20/2016 Update – For Sale – $1500
Camari is looking for a new home………
I sold Camari when she was about six months old to Wally and Kathleen Gates of Las Vegas, NV. I partnered her with a younger female pup named Tia. Tia is listed on my web site. Camari is bold and friendly while Tia is a bit shy and fragile temperament wise. I thought these girls would be a good balance together. They were for a year but just recently their dynamic has changed. The Gates have a year old male Dalmatian that plays with Camari and Tia. Recently sometimes that play gets out of hand. Camari has begun to be a little possessive of the Dalmatian. When this happens the Dalmatian joins the fight and gentle Miss Tia ends up in a three way battle. If Tia were a dog that stood up for herself the three of them might work through this; instead she is becoming traumatized. As a pup Tia was unsure of herself. Over the coarse of the last year she has blossomed into a more confident and  capable guardian, but the recent squabbles with Camari are sending her back the other direction. She has become an easy target for dominance, so the Gates are faced with placing one of the dogs in a new home. At my suggestion they have decided to offer Camari for sale. This has not been an easy decision to reach as both dogs are well loved members of the family. The Gates have a small acreage with minimal guardian needs. Tia is well suited to this environment. I think Camari might be happier with a bigger job.
So, a little more about Camari:
She is now just two years old, is spayed, and has a favorable PennHIP rating. She's a find! Camari got her start with alpacas. While with me she guarded dairy goats, mini donkeys, and mini cows. With the Gates she is guarding mini donkeys, horses, and property. Camari has been very well socialized. She loves absolutely everyone. She adores children, with whom she is especially gentle. She works well on leash, comes when called, and has never shown any inclination to wander. She is nurturing, soft, and devoted to her livestock and loves her job. She is brave and sure of herself. I remember that as a six month old pup here with me she, with her older mentor, stood her ground and helped turn a small herd of elk who wanted to enter her pasture. Even at that tender age she was a force as a guardian. I was impressed!
When I asked Wally to tell me a little about Camari now this is what he had to say:
"Camari is relaxed and very sweet with people of all ages. She is the mother hen and is quick to correct any livestock's inappropriate behavior. Camari works great with our donkeys and is trusted by the moms and their babies. Camari is very alert to her surroundings and likes to patrol the perimeter along with mingling with  the donkey's. As she matures she seems to be driven to have a bigger job possibly at a larger ranch."
Camari is looking for a loving and responsible home as a livestock guardian. She would be a wonderful dog for a family. I think she would be happier with more responsibilities than she has in her current situation. If you would like to talk with me about Camari please e-mail me at: Cindy@BensonRanch.com.
---
These are current photos of Camari that Wally sent me.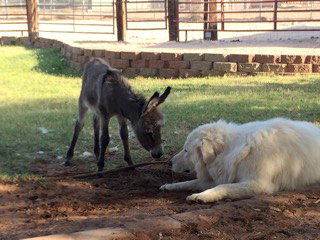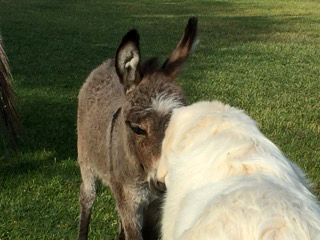 ---
---
Camari is a super sweet girl and is one of the easiest Maremmas to train that I have ever had experience with. She wants to please so consistently. Camari is gentle and attentive to all the different types of animals she has lived with including  Miniature Donkeys, miniature cows, a dairy goat, chickens and turkeys.  She is good with our house dogs and accepting of changes on the ranch. There is absolutely nothing I would change about Camari's temperament.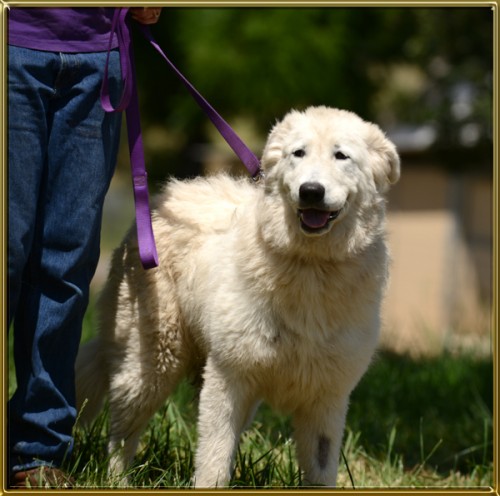 When I look at this photo is can see Camari's willingness to please and gentle kindness.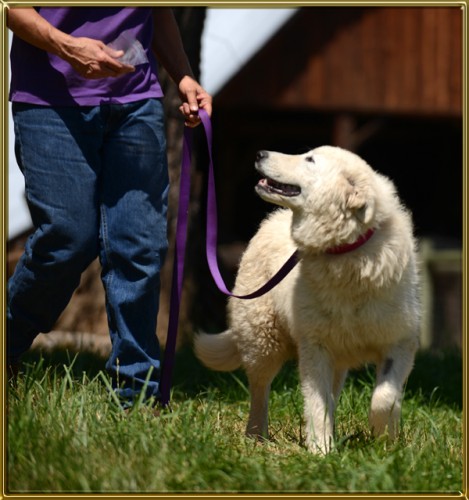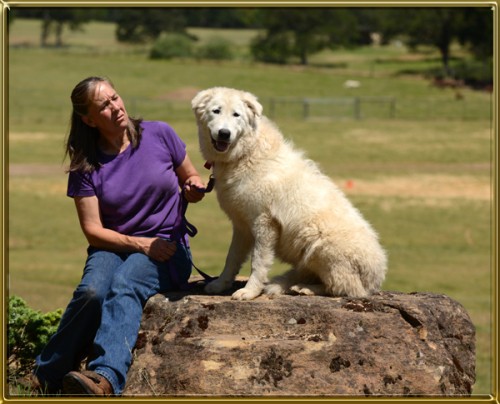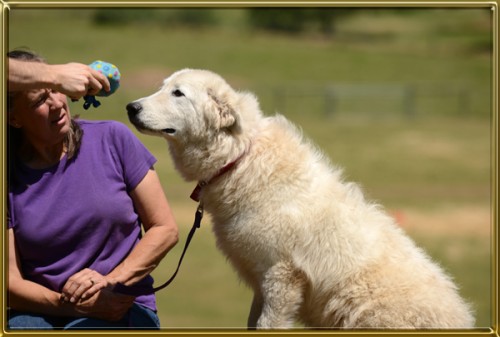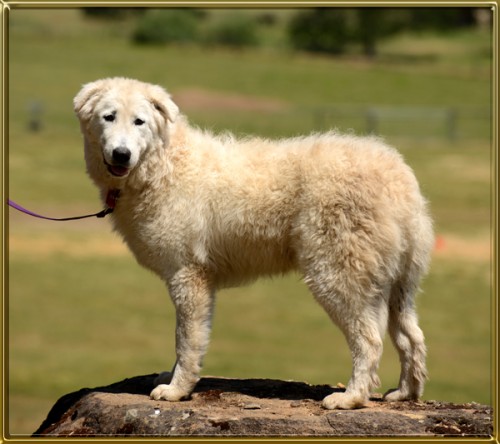 These last few photos were taken when Camari was about six months old. They are too cute for me not to include!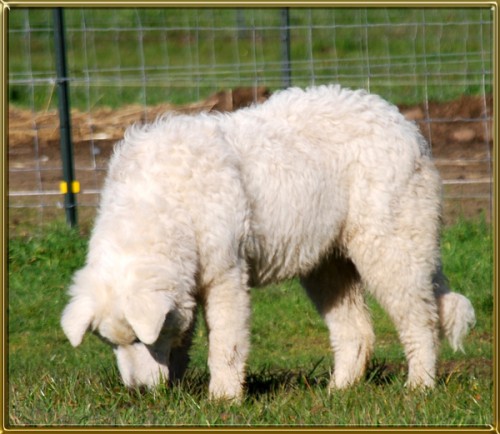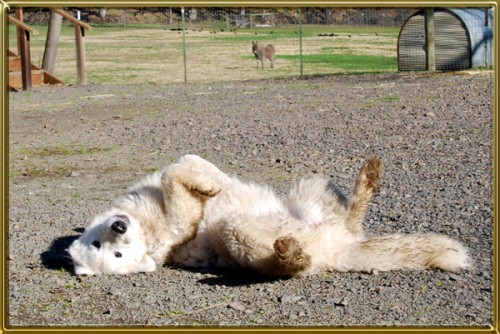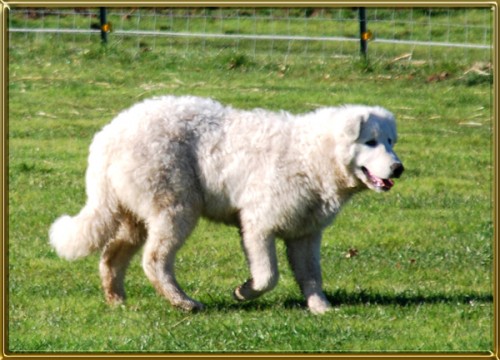 Camari came to us all the way from Desert Mountain Alpacas in Georgia.