Circle C Diamond Flush's Queen, or DQ, as we refer to her, is a lovely jennet. She is fancy and elegant. She has a very nice hip and strong overall conformation. I love her expression and sweet disposition.
DQ's dam,NCL Diamond Flush, is special. She produces wonderful foals and is the dam of Circle C Corona who was a National Get of Sire Champion. I have retained Circle C Penny Ante, who is DQ's sister, to add to our breeding herd as well as DQ to insure that her bloodlines stay in the herd. She is 20 years old in these photos.
Diamond carries old, old bloodlines from a time when many breeders did not take the time to register their donkeys so most of her pedigree has been lost.
Diamond's sire is also the sire of Miss Houston of Circle C who is the dam of Circle C Legend and Circle C La Rouge. These two donkeys are very important in our breeding program because of their quality.
DQ's sire is the great Red Lightening and that means a lot to me! I treasure all of his daughters in this herd particularly  due to the fact that their are not likely many more of them because of Lightening's age.
In 2010 DQ gave us a beautiful gray jack foal BR Coronado,who looks so much like his sire Circle C Silverado. I look forward to watching this foal mature. He is pictured below.
In 2011 DQ gave us the lovely BR Silver Noel, sired by Circle C Silverado. She is pictured below. Noel is so feminine and I am very proud of her.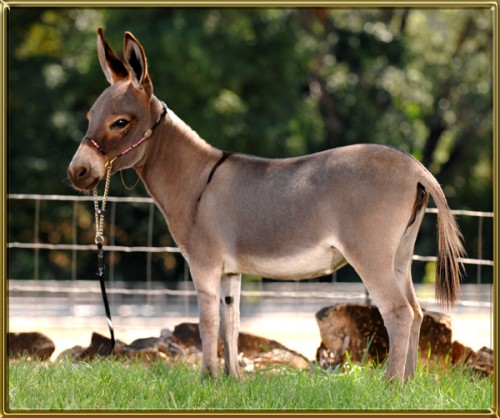 In 2013 DQ gave us a beautiful jack foal by Circle C Silverado that we named BR Lucus. He is pictured below. He is a carbon copy of his sister!
In 2015 gave us a lovely sorrel daughter by Quarter Moon Top Dollar.