Ezmeralda is one of my favorites. She has wonderful drafty conformation, a sweet attitude, and produces high quality foals consistently. What more could I ask! She is also one of our coveted Circle C Desperado offspring.
Her 2007 jack foal was gelded and shown as a yearling. His name is Circle C Mackenzie. He brought home three 1st's and one 2nd out of four shows! We are proud of him.
Ezmeralda had a lovely dark black/brown jack foal in 2008 named BR Solitaire. He is beautiful. He will be a wonderful performance prospect.
Ezmeralda presented us with a beautiful jack foal by MGF Red Jet in 2010. His name is BR Brown Derby and he is now a herd sire in Kentucky.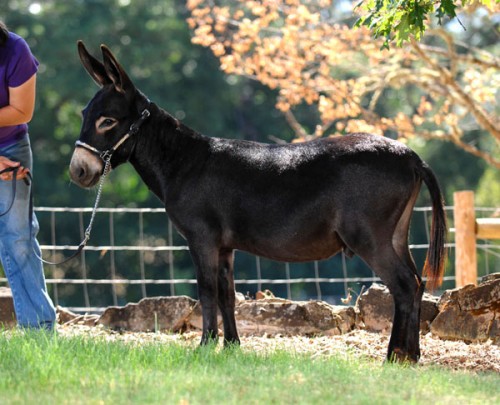 In 2011 Ezmeralda gave us a wonderful black Circle C Little Motown son we named BR Intrepid.
Ezmeralda is currently in foal to MGF Future Link and is due April 2016.