Forever Diamond is one of our very special Desperado daughters. This bloodline is one I cherish and F. Diamond has a home here forever. They have a look and presence I can spot across the field and across generations with their lovely expressions and great big ears!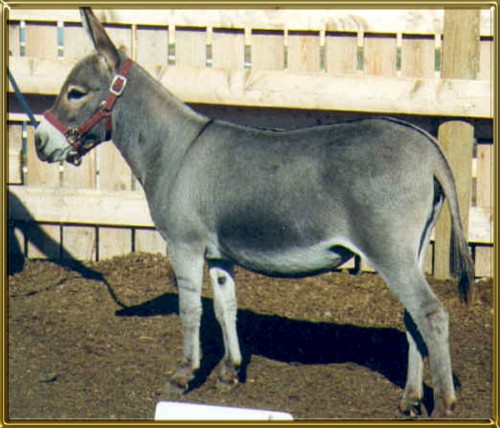 This is a file photo of Forever Diamond at a young age. The years are not always kind to brood jennets. F. Diamond is a perfect example of this and even though having been foundered and the mother of several foals her quality shows through.
Diamond doesn't have much of a pedigree and that is true of many of the very best Cooke donkeys because they come from old, old bloodlines and a time when it was not common to register them. I look to a pedigree to predict the quality of my foals to come and these donkeys have more than proven themselves through Sharon's wise breeding program.
This is My Diamond pictured with Circle C Cashmere. She was such a classy jennet with her beautiful head and regal carriage. She knew her standing in this herd and was a spicy old girl. I miss her and am very grateful to have fine blood lines carried forward in Forever Diamond.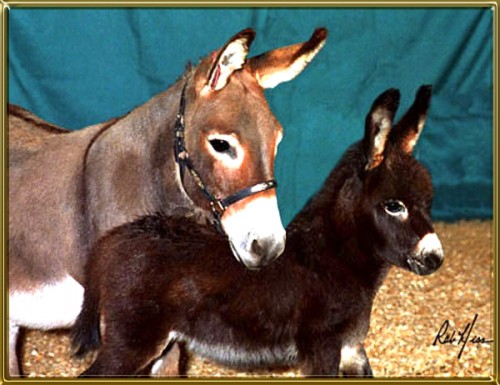 This is the great Desperado. His untimely death was a great loss for the Miniature Donkey gene pool. This tiny gray jack left a legacy behind in his sons and daughters. His influence is very important to me and his offspring in my herd are really special. If I had to pick a favorite bloodline it would be his.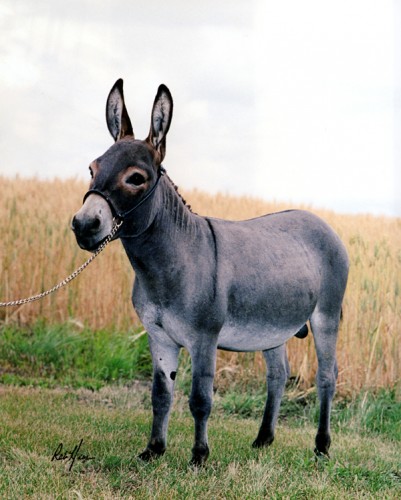 Forever Diamond is a direct Desperado daughter. Below is a photo of Circle C Jazzmin with her jack foal Circle C Dynasty. Dynasty is by MGF Future Link and as of this writing (2015) is the main herd sire for the Cooke breeding program.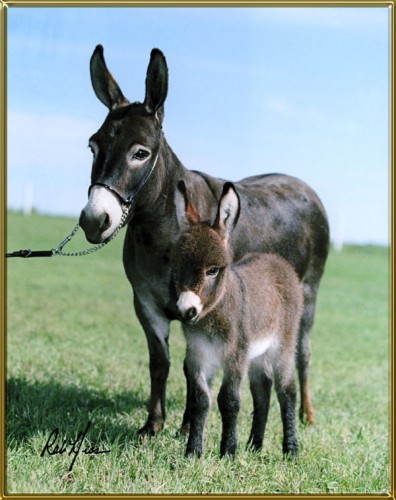 This is Circle C Ezmeralda. She is also a Desperado daughter here at Benson Ranch.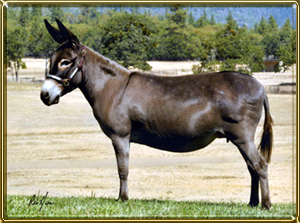 Below is my wonderful Circle C Silverado. I absolutely love this jack! He is so special with his correct conformation and lovely Desperado head but what I cherish about him most is his disposition. Silverado is my favorite community service fellow and he absolutely loves children.
This photo was taken at a horse expo where this little girl was one of the spectators. He took at least 60 children for walks that weekend – the youngest being two years old. While I had the end of the lead rope or was close behind Silverado would drop his head to their hip and never even took up the slack in his lead. To me this soul is why I have donkeys in my life through all the famous donkeys and pets and all the ones in between. This photo just sums it all up. Silverado's temperament comes from Desperado and I have been told they are very much alike. Silverado is a treasure.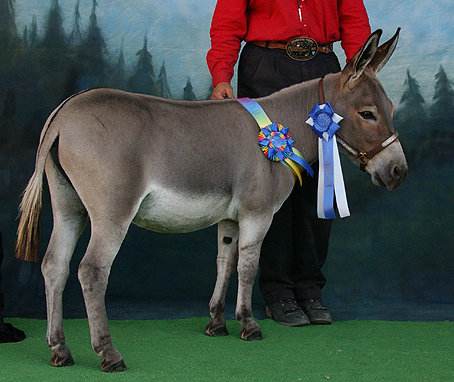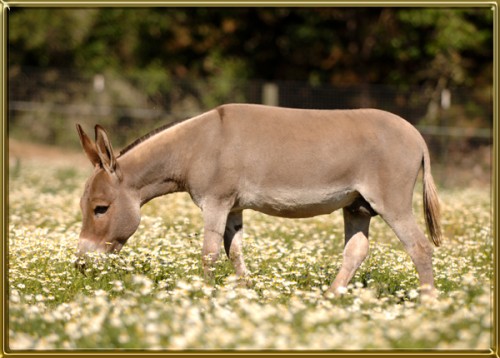 And now for a few of Forever Diamond's fine foals!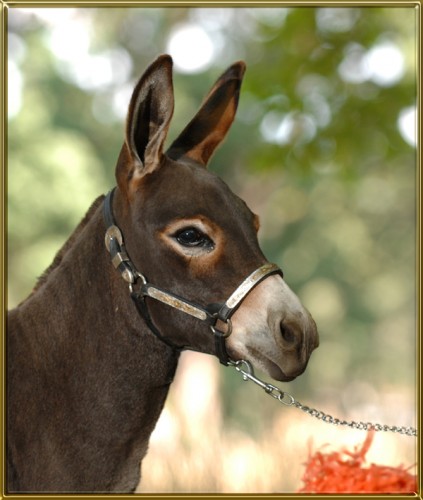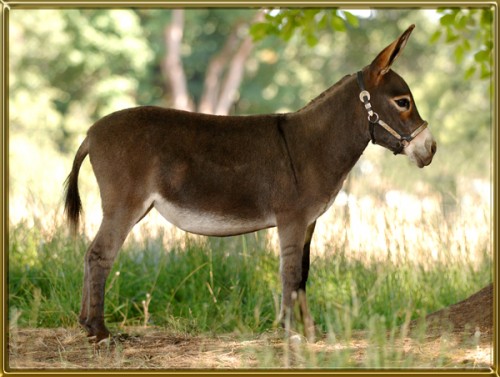 The two photos above are of BR Liberty, F. Diamond's 2009 jennet foal by MGF Red Jet. She is pictured as a yearling.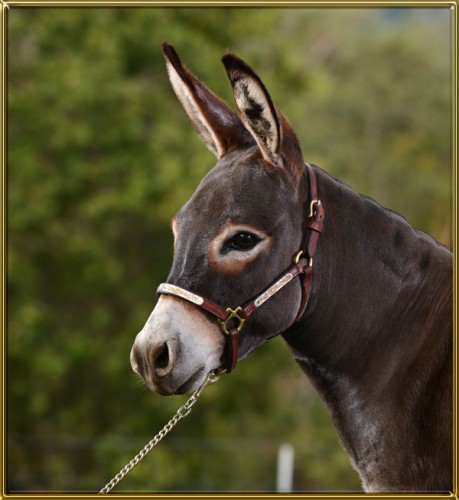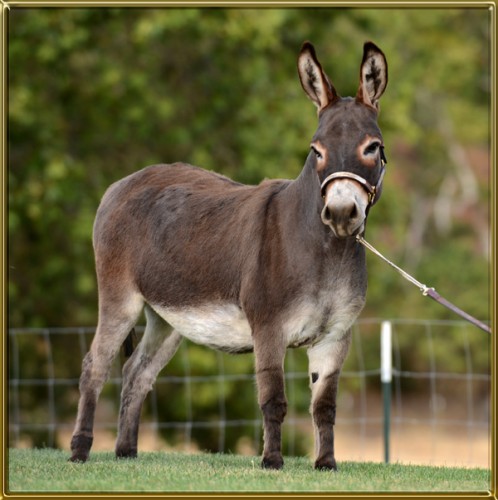 The two photos above are of BR Capri, Forever Diamond's 2011 daughter by MGF Red Jet. She is three years old in these photos.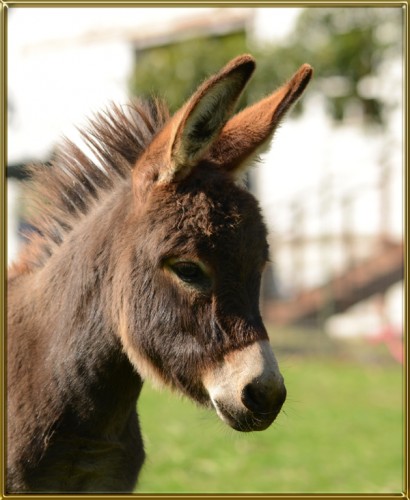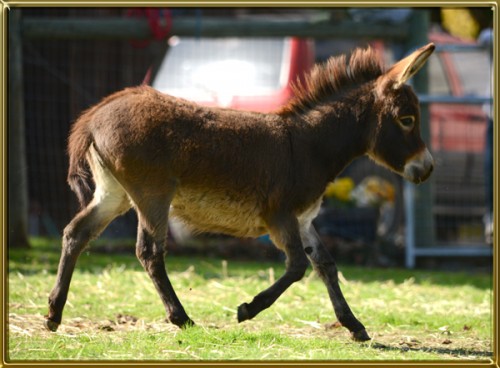 These two photos are of BR Beautiful Brianna, Forever Diamond's 2013 daughter by MGF Red Jet. She is pictured as a weanling.
This is BR Prodigy, Forever Diamond's 2014 son by Quarter Moon Top Dollar. I love this foal!!!! He is pictured here at nine months of age.