Larissa is one of the treasures of this ranch and one of my favorites – for many reasons. First of all it is her disposition. She is our absolutely best community service donkey and loves people in wheelchairs, scooters, and strollers. I can let the smallest child take her for walks and my two year old granddaughter can ride her. On top of all that she has been a wonder in the show ring.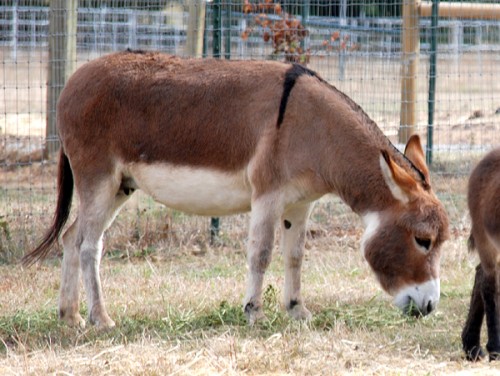 Larissa has been Champion and Reserve Champion Jennet several times and won the Best of breed distinction in 2008. Her bloodlines are impeccable as well. Can you tell I am nuts about her??
In 2012 Larissa gave us a beautiful jack foal by Ozark Jazzy Jamm. I was hoping for a jennet to retain in the herd as this is Larissa's last breeding to Jazzy. Sadly, we lost him in 2012. We named this foal "I'm Jazzy Too".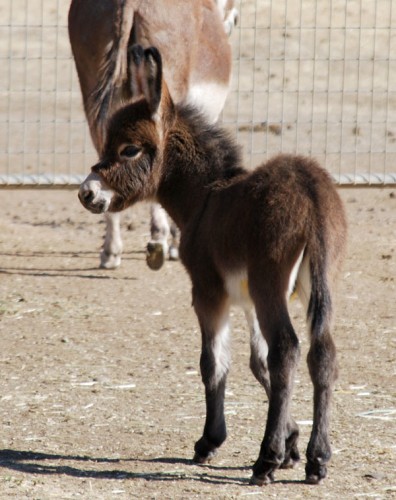 In 2015 Larissa gave us an outstanding jack foal sired by Quarter Moon Top Dollar. Here is an created just for him. Since the creation of the ad I have decided to keep him here with us.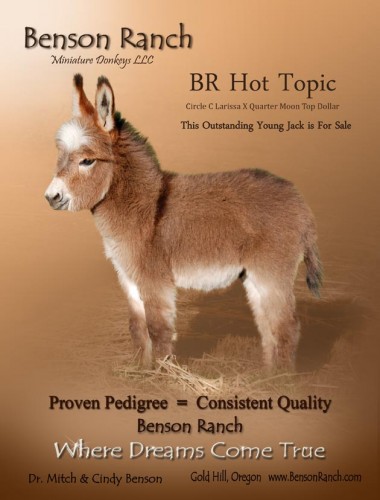 2008 OREGON HORSE CENTER SHOW
1st Two To Three Year Old Jennet
RESERVE CHAMPION JENNET2008 MR LONGEARS ROSEBURG SHOW
2nd Three and Over Jennet
RESERVE CHAMPION JENNET
2008 NORTHERN CALIFORNIA MINIATURE DONKEY SHOW
1st Two To Three year Old Jennet
GRAND CHAMPION JENNET
BEST OF BREED
2008 WINE COUNTRY CLASSIC
1st Two To Three year Old Jennet
RESERVE CHAMPION JENNET
2007 MR LONGEARS ROSEBURG SHOW
1st Jennet
GRAND CHAMPION JENNET
2007 SALEM STATE FAIR
2nd Two Year Old All Sexes
GRAND CHAMPION JENNET