Penny has been added to the brood jennet herd as a replacement for NCL Diamond Flush, who is 19 years old. Diamond Flush has been a strong producer in the Cooke herd, having produced such notable offspring as Circle C Corona, who was a National Get of Sire winner.
Penny's sire, Circle C Legend, has been a top herd sire for the Circle C herd and is now for me. He has decided breeding is too much work most of the time so I consider his foals rare and valuable.
Penny's sister by Red Lightening is pictured below. Her name is Circle C Diamond Flush's Queen. I love the look of this jennet! She is pictured here as a two year old.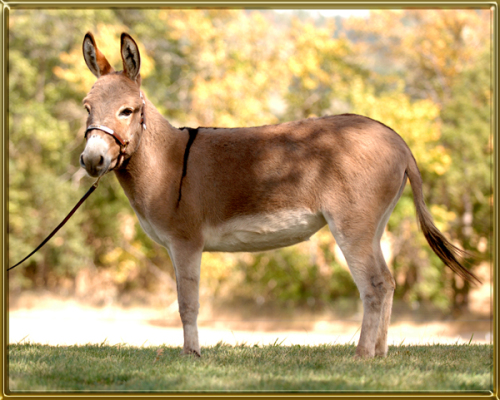 Penny's first foal is BR Silver Sensation. She is by Circle C Silverado and is pictured below. This was a really nice cross so we bred Penny back the same way. Sensation is tiny, wide, and drafty like her sire. She is pictured here as a yearling.
In 2013 Penny gave us the most beautiful light silver jack foal sired by Circle C Silverado! We named him BR Deuce and he sold in just a few days. Way to go Kaylee!!!! He is shown below as a foal.