---
---
9/2/15
Sancia is becoming a sweet, sensitive, kind, confident pup. She greets people softly and is quick to please. I love this photo because it really shows who she is.
---
---
8/19/15
Here are a couple of current photos of Sancia, although they aren't very good ones! I clipped all the dogs for the summer because of the danger of fox tails in our fields. Sancia's has begun to grow back but she looks a little rough, and she's at an in-between age and is tall and lanky. She's becoming much more in-tuned to people and really wants to please. She loves her leash work lessons and adventures! She also loves her goats, as the photos show, and they like and trust her.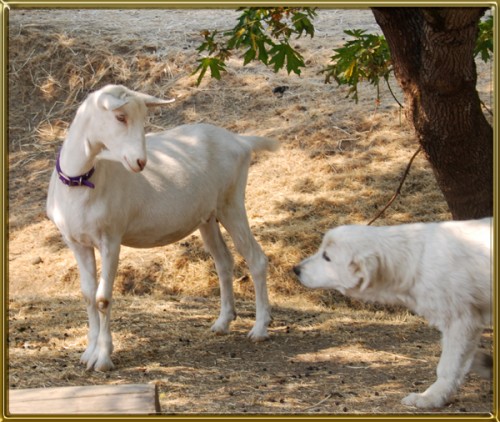 ---
---
I thank Kristina of Peavine Hollow for sending us such an exceptional puppy. Here is the photo Kristina took of Sancia in Virginia just before she boarded the plane headed to Oregon.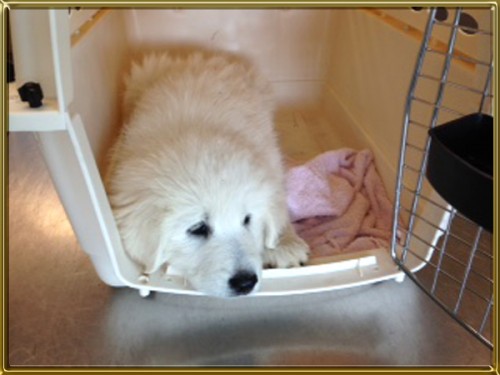 The following photos of Sancia were taken here on the ranch when she was ten weeks old.
We'll add more photos as we watch her mature.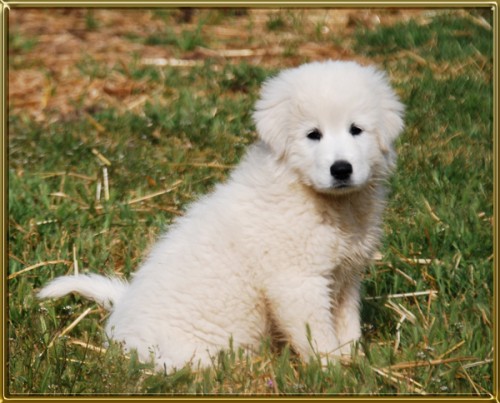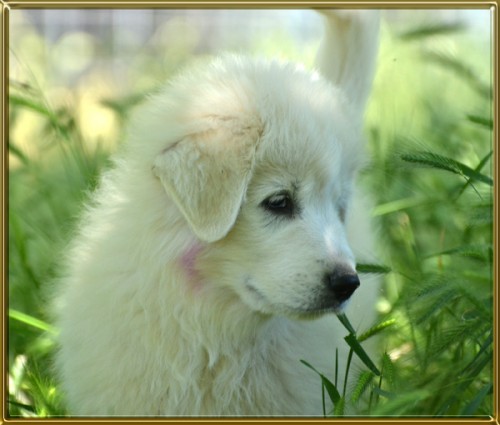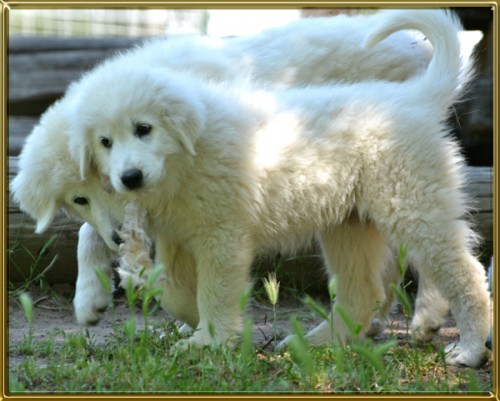 Sancia's sire and dam are direct Italian imports. She is a registered Maremma female.
7/26/15
Sancia is a serious pup. When presented with a new situation she will stand her ground and consider it. She is pretty much fearless, which I think is quite impressive given her young age. She is slightly aloof with people but will always come up for snuggles given the chance to decide on her own. She is doing very well with her leash training and wants to please.
Here on the ranch I have several areas that I use to train the puppies. They transition from a small safe stall, then paddock, and then on to larger pastures and more responsibility all the while living with the livestock I want them to guard. I make sure the pups always feel confident and capable. I moved Sancia into her first large pasture to guard yesterday. I first let her bond for a day, in her area, with Centurion (who is five months old) and Zander (who is eight months old). Then I moved all three into the larger field where Centurion and Zander had been living and stayed to watch how Sancia would handle this. With tail held high she immediately left the other two dogs to do a full perimeter check of the field and inspection of the animals in it. I was sooooo impressed! Sancia lived with Angora goats at Kristina's and then Saanen dairy goats when she came to me. This larger field has a small herd of miniature cows in it, which she had never seen. That didn't concern Sancia. She went right up to each one and kissed their noses as she continued on with her inspection of the new area.
In summary I would say that Sancia is a bold and attentive guardian who I think will handle quite a bit of responsibility. She is our most assertive pup in the group of four. She isn't aggressive but she also does not give away her food or toys. She is attentive with her livestock but is not pushy with them. She does not play with them or put her feet or mouth on them.