I bought William to use as an outcross bull for us. Shortly after I purchased him a friend offered me a very tiny similar type bull that was being bottle raised. I raise livestock guardian dogs and needed an additional small animal right then as a puppy trainer so I bought him. I will keep this other little guy and let William go. However, this is no reflection on William! He is a doll. He loves people and loves to be scratched. He is beautifully conformed and handsome. I could not ask for more. I think he would be a wonderful bull for Satrene. They should reach breeding age at about the same time so you wouldn't have long to wait for calves of your own, and if you wanted to use Satrene as a milking cow you'd be all set.
William's sire tested A2/A2, I think. I am not absolutely sure about this but could fine out if need be. His owners use Bard in their dairy breeding program. I know he has produced A2/A2 offspring, and A1/A2 offspring. William's dam has never been tested.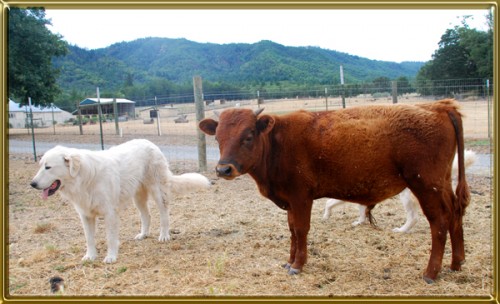 This photo shows William at seven months old with one of our Maremma guardian dogs, who weighs about 100 lbs. I included the phot because it gives a good size reference for William.
Price:  $800