---
---
PennHIP scores:  .31 and .27
---
---

---
---
Liliana produced nine puppies sired by Centurion on 9/15/17. Due to complication post-whelping she has been spayed, so these pups will be her last. It's shame, but I love my dog.
This was the safest choice for her. These are their PennHIP scores:
.18 & .16 – Blue male (Bonavento)- staying with me
.24 & .26 – Blue Tail male (Armani)- available
.18 & .30 – Green male (Santino)- sale pending
.22 & .24 – Turquoise male (Marquise)- available
.27 & .30 – Pink female (Cameo)- staying with me
.24 & .22 – Purple female (Sarika)- staying with me
.27 & .27 – White female (name pending)- sold
---
---
We were so very fortunate to be able to purchase this incredible dog. Liliana is a gregarious girl. She has been gentle and accepting with me and all the new kinds of animals she is being asked to guard. I am very impressed with her. At 130 lbs she is a large dog, with substantial, solid conformation. Both of Liliana's parents are direct Italian import from working blood lines. This is important. That a dog carries imported blood lines does not necessarily tell the whole story. In Italy Maremmas are shown, so some imported lines come from show dogs raised in kennels, not from Maremmas out working in the hills with the sheep.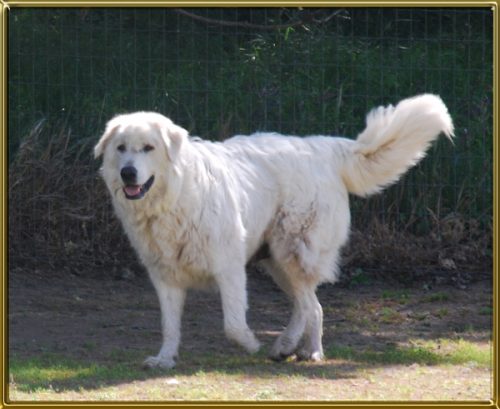 Ah those bloodlines…..Lili's Story
In Italy Maremmas are raised as show dogs as well as working dogs. Most Maremmas imported from Italy are from generations of kennel raised show dogs. Not so with Lili. Her breeder, Kristina Lawwill of Peavine Hollow, raised Maremmas for more than twenty years. She has sold all her dogs, including Lili's sire, and retired. I understand he will no longer be used for breeding which is a shame. Six different times Kristina flew to Italy, sought out and visited working sheep ranches employing Maremmas, and purchased pups from those carefully selected bloodlines. One of the many challenges in that is that a lot of the breeders overseas who use these dogs for work often don't take the time to register them. The dogs must have been registered in Italy to be registered and valuable in this country. It is MUCH easier to find and import kennel raised dogs.
Way back when I was just building my breeding program I learned about the importance of imported working bloodlines from Kristina. I got on her list for a pup from her two most recent Italian imports. I waited more than a year for Sancia. At a few months of age it became apparent that the she had five toes on both hind feet. She was a lovely dog, but I considered that a pretty big breeding flaw so I had her spayed. Kristina reimbursed me for Sancia's purchase price but not of course the shipping costs, vet costs, etc. Those costs were not her responsibility but at this point I was 18 months into this with considerable costs and still without these wonderful bloodlines in my breeding program.
Then about a year later, if memory serves me, the then secretary of the MSCA let it be known privately through one of our board meetings that she was selling all her animals and dogs. I sent her an e-mail asking to purchase Liliana before the meeting was even over. We eventually agreed on a price of $3000 and Lili, with her partner Tulip, also purchased, came here. Lili and Tulip had just had pups so I skipped their next cycle, as I think is appropriate. This was especially true with Tulip who had been intentionally bred at 10 months of age. Then I bred both dogs. Tulip produced a litter. Lili produced one very large stillborn pup at the specialty center in the middle of the night. So more time, money, and tears were spent.
Per her vet's eventual opinion I bred Lili on the next heat and she produced a litter of pups on 9/15/17. She was having her pups while I spent seven hours in the ER with my husband who had been thrown from a horse earlier that day. When they finally admitted him to the hospital at 4:00 am I rushed home to find Lili in the middle of whelping. She had three pups at that point; whelping continued over the next twelve hours. Lili was a great mom, but she developed mastitis early on, and possibly a uterine infection although I will never know that for sure. I struggled to keep Lili healthy over the course of the next three weeks as she was seen by several different vets. Through the support of my dear friend, and small animal veterinarian Dr Laura Bailey the decision was made that for her safety Lili needed to be spayed. This was all an emotional roller coaster for me. I am so grateful I didn't lose Lili over the miss-management from the first two vets. I have learned a lot!
So, given all that I had gone through to bring Lili's bloodlines into my breeding program I decided to keep her pups until they were old enough to have their hips tested. I had seven of the pups tested; their PennHIP scores are truly legendary. I am keeping two of her daughters and one of her sons here in my breeding program, so Lili has left her mark with me.  And here we are today…. what a ride.
My greater message is that an incredible breeding program is intentional and very often expensive to create. I am so, so proud of what Liliana and Centurion were able to produce. Their pups are worth all this to me!!!!
---
---
---
---