---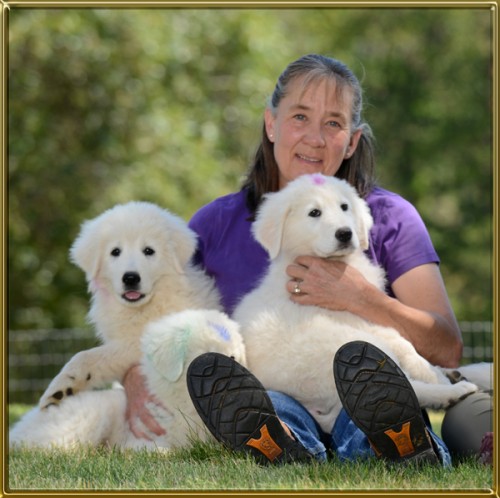 I have selected our breeding dogs with great care. Some of what makes our pups special comes from the genetic influence of their sire and dam; much of what makes them special is what they learn while they live with me on the ranch. This is true even for pups that leave as early as eight-nine weeks of age. Most of my buyers who have had the opportunity to visit the ranch choose to leave their pups with me longer so that I can do further training. Most of my pups stay in training with me until they are 12-14 weeks old.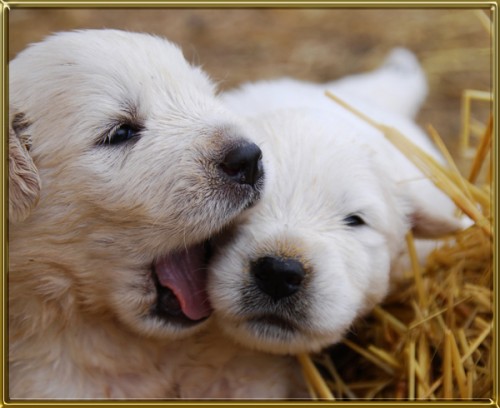 Genetics

---
Genetic consistency plays a huge part in the working aptitude, tractability, and temperament of these dogs. I feel strongly that if I am going to have a 100 lb plus potentially ferocious canine on my property I need to know I can trust him. Breeding dogs produced from generations of productive working dogs helps increase the odds of success with the pups. My breeding dogs have wonderful conformation. That matters for many reason; one of them is that correct conformation is important to a dog that physically works hard. All of our breeding dogs have great hip conformation. Again, that should increase their odds of living lives free of lameness issues. The study of genetics is complex. It is true that you can breed two physically excellent dogs and produce pups with problems. Some things are beyond a breeder's control. It is important to me to do my best to increase the likelihood of success the pups produced here.
---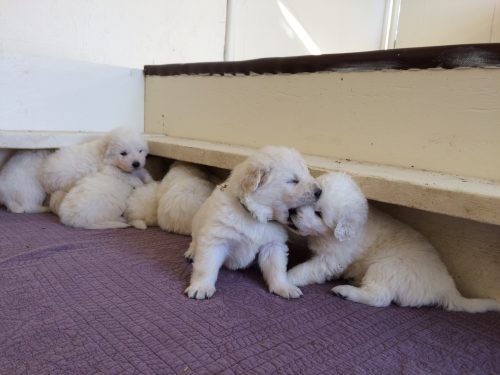 Husbandry
---
 All our dogs are current on age appropriate vaccinations. They are on a consistent program using Heartguard Plus and Nexguard. I feed high quality dog food. Pregnant or lactating females and dogs under one year of age are fed Science Diet Large Breed Puppy Chow. They receive routine grooming and lots of socialization. I love my dogs! All the puppies are on a comprehensive de-worming program and receive age appropriate vaccinations. If they are here beyond twelve weeks of age these vaccinations include rabies and canine flu. All puppies are microchipped and have a wellness exam prior to leaving me.
Our puppies are born in a livestock stall in a clean whelping box. I use cotton bedding that I change out, wash and sterilize daily until the pups are mature enough to plan where to take care of business. I keep a small flock of hair sheep who's sole purpose on the ranch is to serve as puppy trainers. I raised most of these sheep on bottles in with litters of pups so they like puppies and are safe for the youngsters to be around. My sheep are wonderful for this purpose. From the time the pups are three weeks old they live next to the sheep. By four-five weeks of age they spend their days in with the sheep and back in the stall/paddock area at night. Usually by six weeks of age the pups live full time with 2-3 gentle sheep or lambs. This system works so well because it fosters the bonding between the pups and their livestock during this so important time and builds their confidence because they are unlikely to be hurt or frightened by these gentle sheep.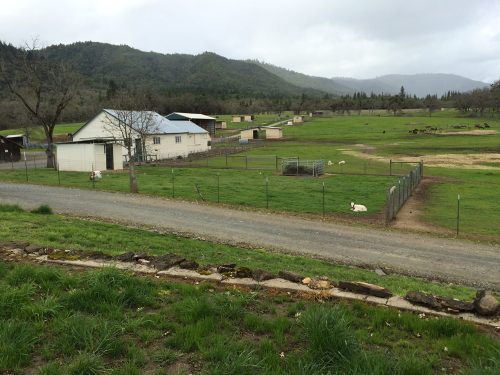 This little field is the first place my pups live. The barn on the far left is where they are born. I have a wired in barn camera system. The photo below shows the monitor in my office. This is Cami with her two week old pups. I check on my puppies every 3 hours around the clock until they are three weeks old or so, and watch them via the camera frequently as well. I work hard at keeping my pups and moms safe and well.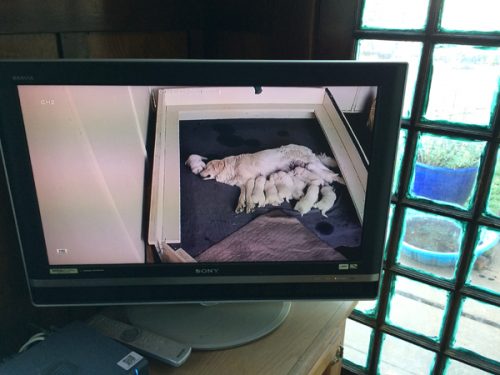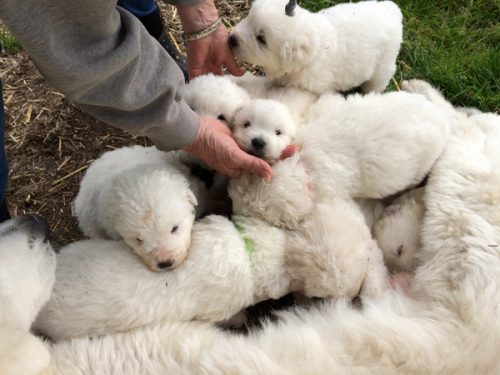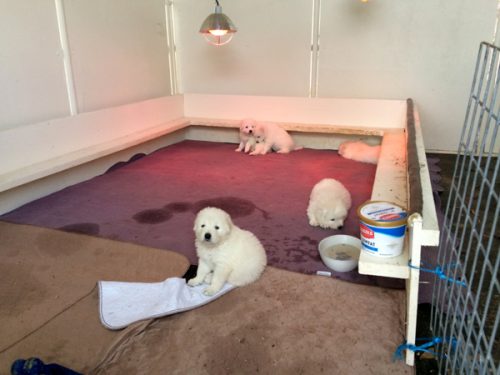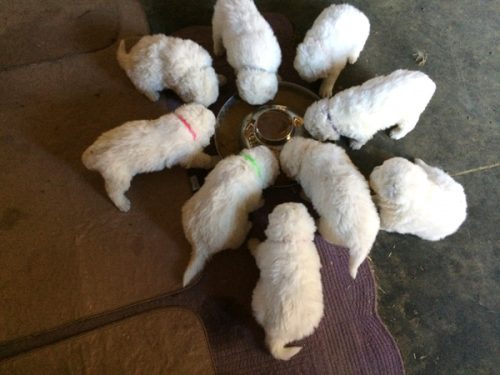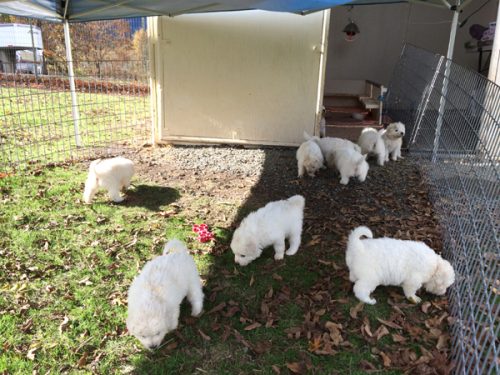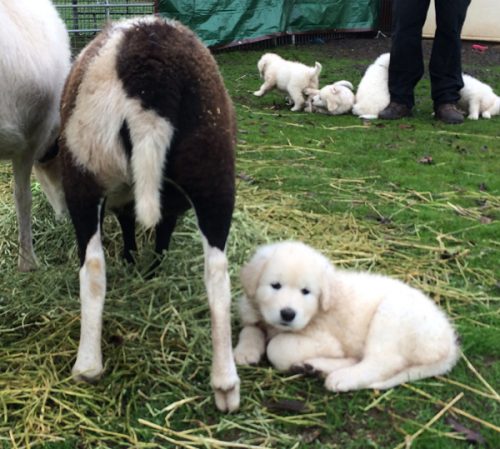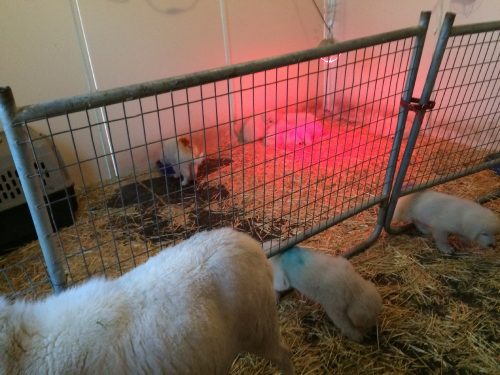 The photo above shows how I transition the young pups as they live with sheep full time. The puppies can go back and forth under the gate panels as they wish and can go out into the field with the sheep as well. The sheep often sleep in the corner of the stall where I am standing to take this photo. By the time the puppies are four to five weeks old they all sleep in a pile with the sheep rather than under the heat lamp side. At that point I take the gate panels out.
---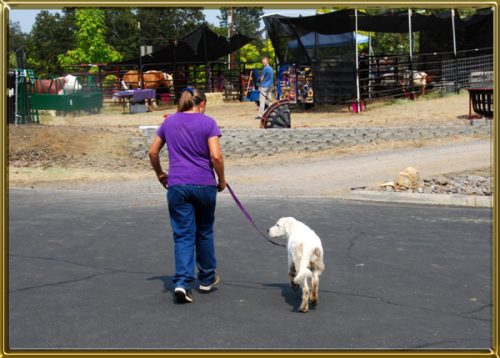 ---
****Training – Training – Training****
---
I am soooo passionate about training my Maremmas. This is the part of raising pups that I love the most. As of this writing I have had the privilege of bringing at least eighty Maremmas through some point of adolescence or on to adulthood. These dogs have taught me much, and in truth continue to do so. Right now there are sixteen Maremmas working in pairs on this ranch. Circumstances on the ranch change often so I need my dogs to be versatile – I need them to be comfortable with change in their environment and with a variety of partners. I spend hours and hours training my pups, including the ones who I know won't stay here.
This page is under construction……..
References
---
"Sadie is doing GREAT! Easiest puppy transition ever. We love her and she is getting along with Gwendolyn and the goat herd just fine. Thanks so much again!
Belinda & Mark  –  2017 Cami x Milan pup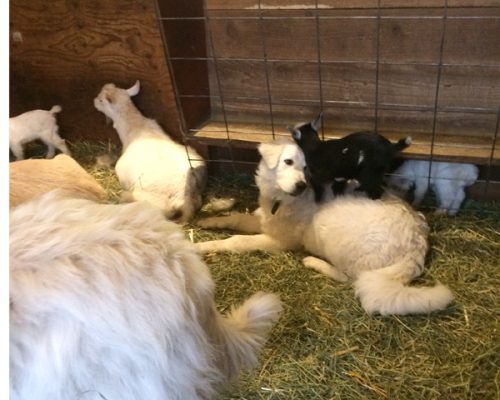 ---
Thanks for these records. I will get a check in the mail tomorrow. The way you train, with such care and attention, is worth every penny! I feel all the pups have been given the very best start in life that is possible, and I am so grateful to you. More soon….
Deborah   –   2017 Liliana x Centurion pup and 2017 Cami x Milan pup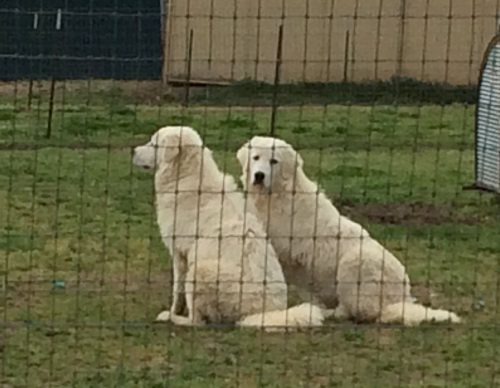 ---
Cindy is a knowledgeable, common sense and extremely caring person.
She raises her dogs with that and more. A chance meeting with Cindy has led to my education about these amazing dogs.
I lost my first Maremma to extreme hip dysplasia, so looking for another dog led me down a lot of roads. Cindy is the most conscientious breeder I've ever met. Her breeding standards are over the top high but just as important is how she raises the pups. Born in the barn, early introduction to gentle livestock, and her early training methods help and direct these pups to become confident, focused and trustworthy guardians of their stock.
Cindy spends countless hours with her dogs, and it shows. If you are looking for amazing dogs to take care of your livestock, you will not be disappointed with Cindy's knowledge or her dogs. You will have a friend in both, for life.
Renee   –   2017 Hannah x Centurion pup
---
Still doing very well! They are out with the sheep all day. The sheep are doing well too. Sometimes if Max gets too "in their face" the sheep's body language tells him to back off and he quickly responds – and then is more gentle. It's really fun to watch from a distance how much inter-species communication is happening!!!  Serendipity is so sly. I've seen her slowly inch her way into the thick of the flock and sniff all the sheep without disturbing or alerting any of them. Max is not so sly – but he's alert and fast and more "on guard". The dogs are getting along famously and make a super great team. I am so so thankful you trained them so well to respect my space at the gate, to put leashes on and not to jump on me! THANK YOU! They are very well mannered for puppies (Cindy's note: Max and Serendipity were 9 months old or so at the time this was written). Most adult LGD are not so respectful of space – great job! Makes everyone (humans, dogs, sheep) safer because of that training.
Laura   –   2017 Hannah x Centurion pup and 2017 Benedetto x Tillie pup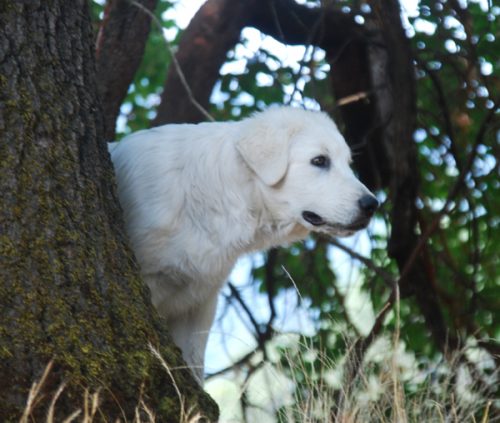 ---
I met Cindy after we had already lost 2 Maremma to different circumstances. We were determined to learn more about being successful with them and the first thing I remember was Cindy telling us that we needed to have Maremma working in pairs. I am proud to say that we have 2 of Cindy's trained pups not paired each with an older Maremma in 2 separate pastures. The difference I see with the Maremma this time is how well behaved they are at the gate. I don't have to do much to have them understand the personal space we require.
We have been fortunate to be able to visit Cindy and see for ourselves the wealth of knowledge and experience she has endured to get to where she is with her Maremma. It is truly fascinating and a feat in itself what she accomplishes on a daily basis. Cindy is able to support any question and situation I bring to her with a lot of patience and understanding.
Janet – 2017 Hannah x Centurion pup and 2017 Liliana x Centurion pup