On August 22, 2015 Benson Ranch and friends had the privilege of being part of a local community service event. A good time was had by all – humans and animals alike! Over the years I have done lots of this sort of thing. I know how fortunate I am to live the life I do. It is a privilege to be allowed to live with my animal family and I feel strongly about sharing them with others. When I was a child experiences like this shaped the future of my life; now I have the opportunity to give back. The last few outings I have had the most excellent helpers!!! I'll introduce them to you through the photos. And at this event, for the first time, I included the Maremmas. I took Watermark Centurion (6 mo old male), Stoneybrook's Milan (5 mo old male), and Stoneybrook's Hannah (5 mo old female). I knew these pups would be way out of their comfort zone and worried about how they would handle it. The event was held about ten minutes from the ranch so I knew I could run them home if they needed me to. I underestimated them! They had a great time and learned a lot, and I learned a lot by watching them. It was well worth the effort! I hope you enjoy the photos and stories……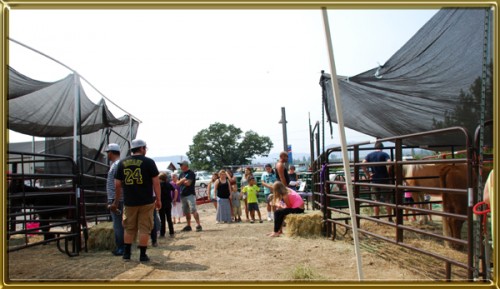 This was our set-up. We had three 12′ x 12′ pens on each side. The animals all had shade cloth overhead (thank you Raineys!!!) and we had a pop-up. I took my Haflinger mare Regina, my Scottish Highland cow Frosty, two mini cow calves, two Miniature Donkey weanlings, two Poitou donkeys, two St. Croix sheep, and the three pups. They were a colorful and interesting collection! I was proud of them all. We were on display for 7 1/2 hours and steadily had visitors throughout the day.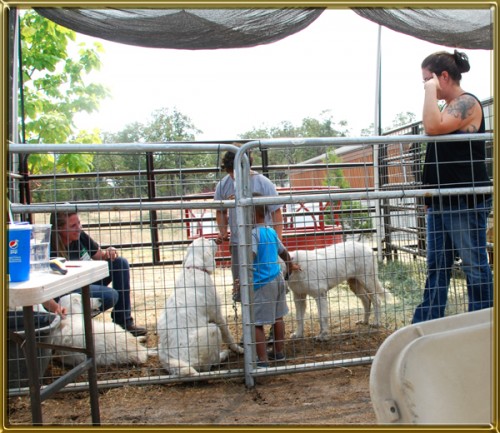 This is the pen the pups were in. I had lined the corral panels with hog panels to be sure the dogs would stay in, and I gave them the St. Croix sheep for company. Initially I had thought to have the pups on display only, with me bringing them out on leash from time to time. Our location was close to the highway and that worried me. As well housed as they were, I knew those pups could climb out if they really decided to so I was cautious, and I didn't want to overwhelm them with the stimulus of people and noise. It took the pups about an hour to figure out that we all were staying in one place, and they stretched out and went to sleep!
This is Annabel, our eight month old mini cow heifer calf snuggling Milan. She loves her dogs! She was a bottle calf when Hannah and Milan arrived at the ranch, so they have grown up together somewhat. That's great fun to watch!
Annabel was very popular all day, and so was Rylan! My husband Mitch is an equine veterinarian and he has a vet tech that works with him always. Her name is Becca, and you will meet her in a minute. Becca has two wonderful boys named Hunter and Rylan. Here's Rylan! You'll meet Hunter in a bit. Toni and Corina were my two other adult volunteers. They were wonderful and I thank them very much!!!! I am always especially excited to have children working with me. Hunter and Rylan were soooo good at being friendly and confident and answering all the same questions, over and over, all day long. They just never tired. I find that the children visiting are most comfortable approaching my child volunteers; it seems empowering for both. Hunter and Rylan were flawless! Rylan stayed with Annabel all day while Hunter worked with the mini donkeys, one of which was a handful at times. I don't think I ever walked in either of those pens all day. Those boys had it handled!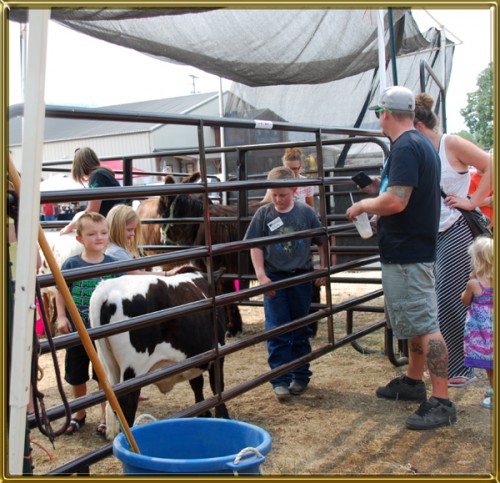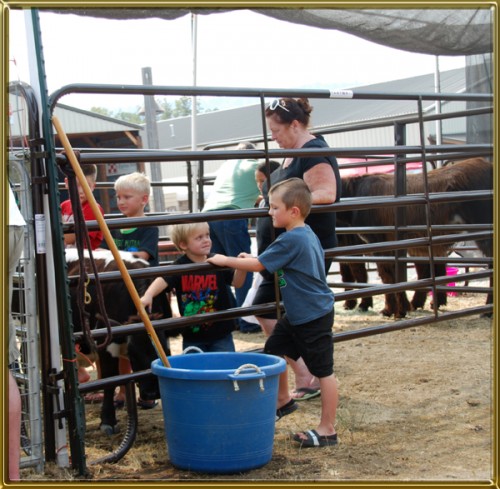 Right next door were the pups. I put this much too small crate in the pen just in case any of them felt they needed a corner. Centurion, the largest pup by far, decided it was his.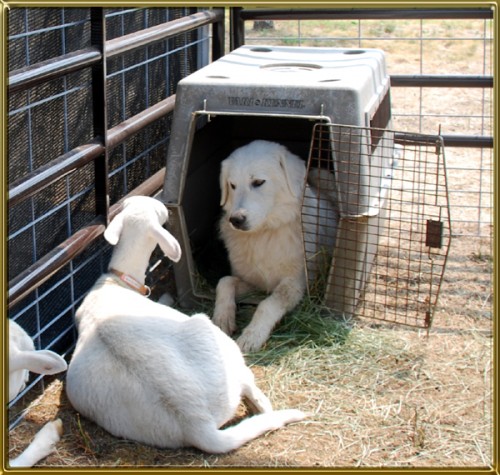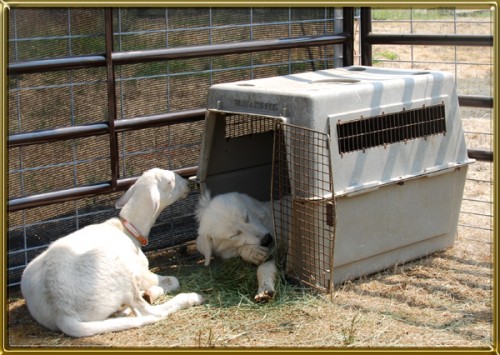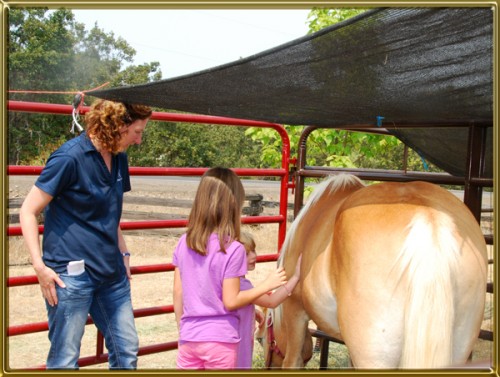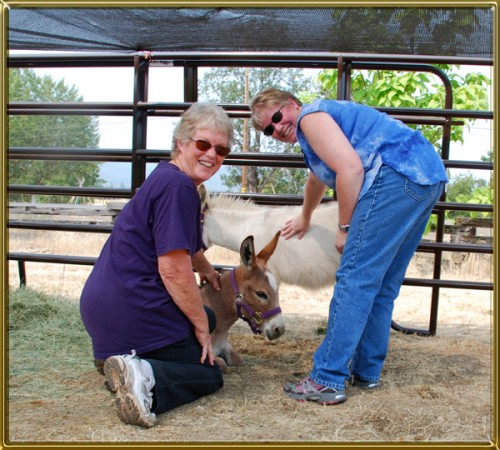 In the far left of this photo you can see a water trough. All the other pens had water buckets instead. For the dogs the trough doubled as a swimming pool all day, which created a great muddy place. They thoroughly enjoyed that as well!
Over the course of the day I took each pup out for a walk among the crowd. I did this twice with each dog. They went out across the pavement, down through the vendor booths, and around people and noise. I continued the walks until the pups let me know they had had enough. They would start out forward and engaged, and then become rounded and cautious; at that point I would head back with them to what was familiar. They made it farther each time. All the pups were good minded, friendly, and steady even around the other dogs they encountered. I only talked with two people all day who had heard of the Maremma breed, and many people did not know about livestock guardian dogs at all. I enjoyed talking about being able to live in harmony with the predators in our area, and predator preservation in general. Many of the people I talked to that were aware livestock guardian dogs existed were surprised that they could be friendly, family dogs as well as protecting livestock. The pups were wonderful ambassadors for the breed and I was very proud of them.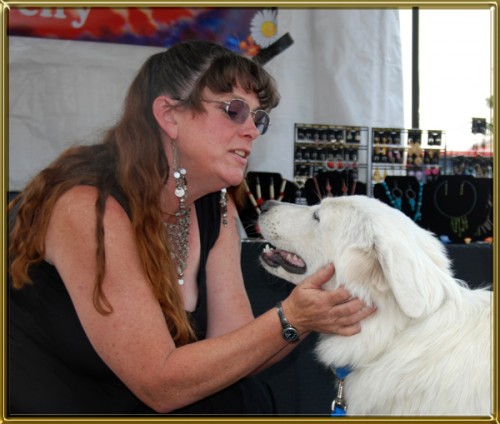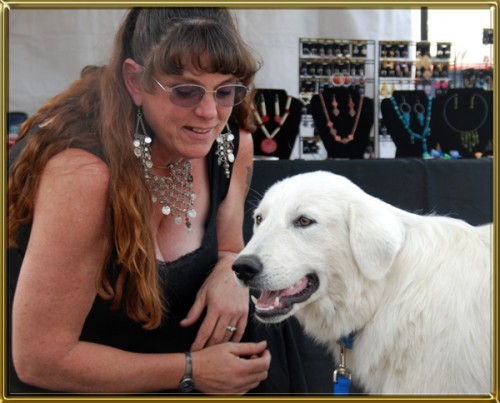 Well that wraps it up! I hope you have enjoyed the photos!!!!