Jennets Now Available
Waiting list now forming for eight foals due in August – to be placed in same-sex pairs only, at five months of age.
I only sell my donkeys in same-sex pairs; said differently, I only sell them with each other. I do not sell single donkeys. Please don't ask me to.

I update my site frequently; if you see a donkey listed here as available, that is likely the case. Please inquire.

---
Benson Ranch is located in Gold Hill,
Oregon, just minutes off I-5.
---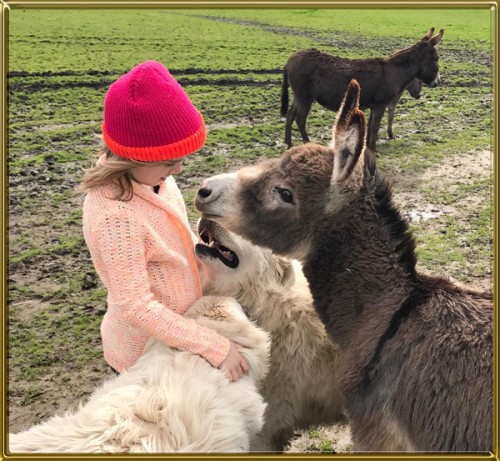 This is a young visitor with a seven-month-old mini donkey and two adult Maremmas who guard in this field. Notice the kindness of the donkey and the dogs – beautiful!
---
Mitch has been an equine veterinarian for 30 years and specializes in reproduction, lameness, and dentistry. He was the United States Equestrian Team's Endurance veterinarian for several years and traveled with the US team's horses to the World Games in Holland and Spain.
I have been riding and training equines since I was 10 years old. I have studied genetics and equine conformation extensively and have many years of animal husbandry behind me.
---
---
---