WHY BUYING FROM BENSON RANCH IS SPECIAL
Part of what you are buying is our reputation of accurate representation, strong ethics, and high-quality donkeys. I have been a breeder since 1992 and have high visibility due to my active marketing practices. With the addition of the Cooke herd in 2006, this is even more true. Part of what this means to you is that much of your marketing of the donkeys you buy from us and their offspring has been done and continues without your efforts. This makes your foals easier to sell and at a good price.
The Cooke herd is well known throughout the Miniature Donkey world for a consistent quality which is very important in a breeding donkey. Buying a beautiful, well-bred breeding donkey is an investment in the future. The mark of a breeding animal is in what it can produce, and this is where the genetic background is so important.
Sharon Cooke is a master breeder and has created a legacy with her fine herd. I feel so privileged to have so many of them here. These good bloodlines have proven to be highly influential through the offspring of hundreds of Cooke donkeys in their 20+ years of breeding. This means you can expect a lot from the donkeys you purchase from us. They bring a good price because they are worth it! Buying the absolute best is good business.
This herd has been created with the performance donkey in mind. Miniature Donkeys were originally bred to be athletic, tough, and trainable. It is important to us that our breeding program continues with these origins in mind. While we certainly have our smaller donkeys, our focus is on donkeys with enough leg to move beautifully and be competitive as performance donkeys. Even our tiny (31″) donkeys have been bred with quality movement in mind. In our herd, you will find beautiful heads which we think is particularly important as that is often the first thing a visitor will see and remember about a donkey. We love deep, well-rounded hips and you will see lots of them here! We want good overall balance and type with correct legs and well-shaped hooves. And last, but certainly not least, we want our donkeys to have wonderful temperaments.
Our donkeys get the utmost in health care and husbandry given our equine veterinarian on-premises! Mitch and I, (especially me!), love to talk donkeys and welcome visitors. We would be happy to introduce you to the herd in person so if you are ever in our area or would like to make a trip out, please do! Thank you for considering our donkeys!
---
---
Our Breeding Program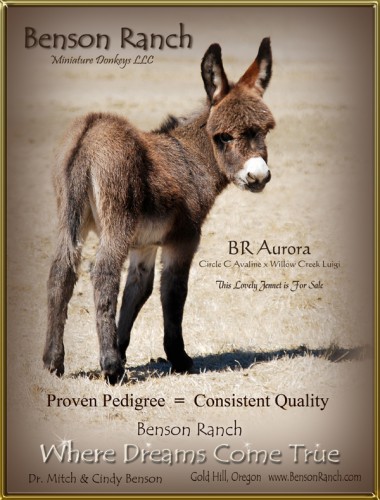 Our breeding program is different than most
because it is based on genotype…not phenotype.
In most herds, you will find assorted bloodlines represented in both the jacks and jennets. In a high-quality herd, many of these donkeys may have been Show Champions. This means they are a desirable phenotype. The breeder hopes that by crossing a desirable phenotype with another desirable phenotype, the resulting offspring will be as nice as its sire and dam. That may happen, but the problem comes when you look at the genetics behind this sire and dam. Are they a product of bloodlines that consistently produced Champion after Champion or are they one high-quality phenotype out of several offspring that weren't quite the same quality? If this is the case your odds at producing at the top are not as great as if you are working with consistent genetics. It takes several generations and many offspring to be able to really prove genetic consistency.
Our breeding program is based around the incredible Circle C donkeys. This world-class breeding program is the legacy of Grant and Sharon Cooke and their livestock expertise based on generations of experience. They had the knowledge needed to select high-quality breeding stock and an understanding of how to use them to full advantage in their goal of producing high-quality donkeys. They have spent most of their lives creating a breeding herd unequaled in the Miniature Donkey world today: in Canada, the United States, and overseas. They built arguably the top quality breeding herd in the history of the Miniature Donkey industry. As of this writing (2013), this is still very much true.
They built their program around two jacks: Little Motown and S.S. Red Lightening. Motown was their base for breeding true performance-type donkeys and Red Lightening contributed his draft type conformation and classic head. Lightening is a performance donkey as well but is a versatile blend in terms of type and this was important in creating a diverse program. Then came MGF Future Link with his indelible mark. His beautiful head is well known as is his elegance. Produced within their breeding program came Circle C Legend, a Red Lightening son, and Desperado of Circle C. And here you have the nucleus. Grant and Sharon used these outstanding jacks with their 100-200 breeding jennets over 18 years to create the incredible herd that I had the good fortune of being able to purchase in 2006.
Our donkeys produce high-quality foals as the rule, and not the exception, based on genetics, and when you bring home foals from this outstanding program you can expect those foals to do the same thing for you when bred correctly. The genetics in our herd has proven to be highly influential even when crossed with many other diverse bloodlines. There is never a guarantee when breeding, and that is part of what makes it challenging and dynamic, but you increase your odds of producing the high-quality foals you are hoping for when you start with the strength of such a base as our donkeys offer.
The article below explains these concepts in greater detail so if you would like to know more you may find it interesting.
---
A WORD ABOUT GENETICS AND PEDIGREES
written by Cindy Benson 2008

Within the study of genetics, there is a phenotype and a genotype. The phenotype is the quality of the actual animal standing before you. For our purposes here we will call our phenotype jennet "Spark". The genotype is all the bloodlines that it took to create the phenotype (Spark).
Sharon Cooke has taught me that if you have to choose between phenotype and genotype, the genotype is the most important. So, if you compared Spark, who has some minor conformation faults but a great genetic background, with a more correct donkey with a poor genetic background, Spark would be the one to choose. The reason for this is the consistency of foals. The phenotype may never produce as well as he/she is because it is not common in his/her genetic background. The donkey with the strong genotype should produce at least as well as he/she herself and will probably do even better than that when bred correctly. The value of a breeding animal is in what it can produce, and you always want to produce better animals than the two you are using to create the foal. The strong genetic background gives you the best probability to do that. One of the reasons the Cooke donkeys are priced higher than many others is that they are so genetically proven. They often can really improve an animal of lesser quality. Therefore I sometimes will select a jennet to add to my breeding program knowing that she herself has conformation faults. I will do this if I know a lot about the genetic background behind her and consider it highly valuable. When I cross a jennet like this with one of my high-quality jacks the offspring are often what I am looking for in terms of quality. A compromise with a jennet can be made because she will only affect her one foal and if she does not do what you expect her to you can sell her (send her into a more appropriate breeding program) or try her with a different high-quality jack.
I will not compromise with a jack. He is the cornerstone of the breeding program and affects every foal he produces. If you breed a lesser quality jack to five good breeding quality jennets, you may get one good foal and four like the quality of the jack. You risk your whole year's foal crop on this one jack. If you bought him when he was young ($2000), raised him ($1000 for instance) and then waited another year for his foals and add that cost, and then he produced as I have described, he has had a significant impact and can cost you a lot of time and money.
I never purchase a donkey based on price. If it is the right animal based on these principles and right for the jacks, I currently own she is worth a lot to me, and I am happy to pay for that. If she isn't she is no bargain at any price. My time is valuable and so is the reputation of my good jacks and ranch name.
Some conformation faults matter more than others – some of this has to do with how hard they are to change with future offspring, but it has to do with personal preferences too. The donkeys in my herd are ones who have what I like and not much of what I don't, but they still aren't perfect. That donkey does not exist. It is important to know the strengths and weaknesses of your breeding donkeys. The goal is not to duplicate faults in both sire and dam.
Using a pedigree to help predict the quality of the offspring is a valuable tool but what do you do about an animal such as S.S. Red Lightening or our jennet Sterling Silver of Circle C? These two tremendous donkeys have little or no known pedigrees. Many of the top Cooke Miniature Donkeys have scant or unknown pedigrees. Early in the production of Miniature Donkeys in the United States, many breeders did not consider registering their donkeys to be important and their pedigrees were lost. Donkeys like this must stand on their own merit. In the case of the Cooke herd, most of them have had generations of consistently producing high-quality offspring to prove their worth. Passing up a donkey like this because of a lack of pedigree is a mistake in my opinion.