I have had Treasure for a long, long time. She crosses very well with Circle C Silverado and has had three good quality foals by him, including outstanding herd sire BR Pepper Jack. Pepper has produced so well and has proven that he is a jack I can count on to be influential.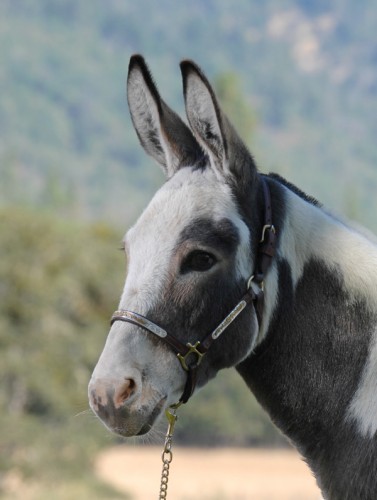 When the Cooke herd came here I decided to try Treasure with Circle C Legend and what a cross that has proved to be! The Legend daughter BR Chantilly Lace is shown below.
Treasure and Legend presented us with a wonderful spotted jack foal in 2009. He is the only spotted Legend jack ever produced and we are quite proud of him. His name is BR Legend's Triumph and he is a herd sire for Sarah Friend of Wynnfield Stud in England. Triumph is shown below.
In 2011 we had the opportunity to breed Treasure to Little Motown of Circle C. She has outdone herself this time! He is shown below.

In 2013 Treasure gave us this lovely daughter by BR Lightening's Rembrandt. Her name is BR Shasta. She is pictured here at just a few days old.